"My passion for perfume runs parallel with my passion for prose. An obsession, maybe, as I can't go a day without reading at least a chapter or popping the top of one of my favourite fragrances."
Derek Owusu is an award-winning writer and poet from North London.
Perfume

Perfumes are memories in a bottle.
Why I write
'Suddenly, I knew what I wanted to say, and who I wanted to speak to. The right words became more distinct, throwing light onto the page, bending sentences like iron bars, breaking rules because we need to.'
My favourite book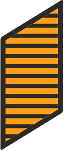 'I saw The Great Gatsby as someone who could have lived in the same block of flats as me, working-class from Tottenham, who threw penthouse parties and wore shades that reflected money.'
Biography
Derek Owusu is an award-winning writer and poet from North London. He discovered his passion for literature late in life while studying exercise science at university. Unable to afford a change of degree, he began reading voraciously and sneaking into English Literature lectures at the University of Manchester.
Owusu has written poetry and short stories for the BBC and ITV, and regularly features on literary prize judging panels. In 2019, Owusu collated, edited and contributed to SAFE: On Black British Men Reclaiming Space, an anthology exploring the experiences of Black men in Britain. 
His first novel, That Reminds Me, was the first work of fiction to be published by Stormzy's Merky Books imprint, and won the Desmond Elliott Prize for debut fiction, the judges praising it as a 'transcendent work of literature.' In 2020, Owusu was one of the founding members of the Black Writers Guild, whose formation was due to the lack of representation and inequalities that exist within mainstream publishing in the UK. And in that same year he was a Book of Man 'Man of The Year' for his writing and mental health advocacy.