"Every book should have in its soul a desire to change the world, to make it better, to do something good. Now more than ever, a writer's responsibility is clear."
A novelist and critic
The novel in five stages

Considering, preparing, writing, revising, editing.
Does the writer have a responsibility?
A slight and nebulous ability to change the world
The sense of an ending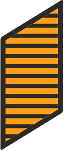 That tricky thing
Biography
Diana Evans is the author of the novels, A House for Alice, Ordinary People, The Wonder and 26a, which was the inaugural winner of the Orange Award for New Writers. Ordinary People won the 2019 South Bank Sky Arts Award for Literature and was shortlisted for the Women's Prize for Fiction, the Rathbones Folio Prize and the Orwell Prize for Political Fiction. 
She also publishes short stories, essays and literary criticism, which have appeared in among others Time Magazine, The Guardian, Financial Times, The New York Review of Books and on BBC Radio 4. She is an associate lecturer in Creative Writing at Goldsmiths, University of London, and a Fellow of the Royal Society of Literature.