"I wrote Love After Love in our Caribbean English without translation or apology. Claiming and celebrating my history gave me the voice I'd been struggling to find. It doesn't get more political than that."
Ingrid Persaud is a Costa Prize winning novelist and short story writer of rare, meticulous care and mischief.
Liming with Anansi

An old spider comes to the rescue
Writing home
The power of cascadoux
I'm still writing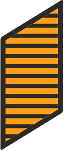 Celebrating the ordinary
Biography
Ingrid Persaud is a late bloomer to the world of literature. She began her adult life as a lawyer, having studied law at the London School of Economics. She'd always yearned for an artistic life, an ambition which took her to study fine art at Goldsmith College and Central St.Martins.
Up until her 40s, Ingrid Persaud taught law at Kings College, London, and also worked as a visual artist, before undergoing the transformation into a writer.
Apart from her 2021 Costa First Novel award, her prizes and awards include the Indie Book Award for Fiction 2021, the National Short Story Award, 2018 and the Commonwealth Short Story Prize in 2017, with The Sweet Sop, a story exploring harrowing themes of fractured families, death and terminal illness, through the medium of chocolate.
Persaud's work is mostly set in Trinidad and Tobago, where she was born and grew up before relocating to the UK.