"You have to keep writing even when you don't know if you believe you will 'make it' anymore. Why? Because it's the only thing you are good at, the only thing you know."
Leah is a writer for TV, theatre and an actor
How I stay motivated and inspired as a writer

From a flurry of action to a mature daily practice
On finding ideas
Please be patient… search running
Why do I write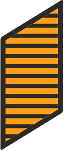 The pen is both companion and weapon for a questing writer.
Biography
Leah Chillery is a graduate of the BBC's College of Comedy where she story-lined on Two Pints Of Lager And A Packet Of Crisps, Grown Ups and her own sitcom pilot, Ebony's Yard. She has written four BBC Radio 4 afternoon plays – her most recent being Losing My Penny.
Leah co-wrote the Bush Theatre hit 50 Ways To Leave Your Lover which returned for a second season as 50 Ways To Leave Your Lover at Christmas. Her play Earl of Mo'Bay, which premiered at the Lakeside Arts Theatre Nottingham, was shortlisted for the Alfred Fagon Award.
Leah is one of the first Felix Dexter Bursary winners, completing a comedy writing apprenticeship with the BBC. During that time, she developed her own sitcom White Washed and also gained experience on shows such as Newsjack, Famalam and Mrs Brown's Boys. She wrote the screenplay for Samuel's Trousers, a short film released in 2020.