Maame Blue by Abi Oshodi
"I had never really thought of myself as African-anything before. But after three months of living in Australia, I realised how Ghanaian my version of London had been; how much of Ghanaian London I had unwittingly taken for granted, and how I missed it, feeling the ache whenever another black person nodded at me on the street in Melbourne."
Writer, podcast host
How to become a writer

In 14 hopscotch steps and a picture (Step 12, Stay alive and write stories about staying alive.)
All the same
Knowing Melbourne like the back of my hand, and Ghanaian London like the front of my heart.
Beginning again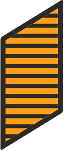 After a summer of love, I watched the flight map track the 10,000 miles that would soon be between us.
Biography
Maame Blue is a Ghanaian writer and co-host of Headscarves and Carry-ons – a podcast about black women living abroad – who splits her time between London and Melbourne. Her work has appeared in various places including Black Ballad, The Independent, AFREADA, Litro Magazine, Storm Cellar Quarterly (USA) and The Good Journal; and in 2020 she joined a scriptwriting team to remix a telenovela for African broadcast.
Her short story Howl was also published in the New Australian Fiction 2020 anthology, and her debut novel Bad Love was long-listed for the Guardian Not The Booker Prize and chosen by Cheltenham Literature Festival as one of their top three debuts of 2020. She has works forthcoming and is cautiously working on her second novel.