"I've always had a special regard for the power of the written word: the way life – with all its colours and vicissitudes – can be funnelled into the cool clinical science of grammar and syntax, sentences and spellings; a domain of rules and laws."
Micah Yongo is a novelist and a journalist
The black man's burden

Double consciousness in the contemporary world
I thank whatever gods may be
In the ink of gods
Why I write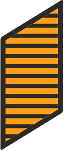 Does literature teach us how to live?
Biography
Micah Yongo is the author of two ancient Africa-inspired epic fantasy novels. His debut, Lost Gods, was shortlisted for Starburst Magazine's inaugural Brave New Words award, as well as a British Fantasy Award.
Shaped by the West African folklore of his childhood, Yongo introduces readers to fresh mythic worlds on the way to examining ideas on religion, culture and belonging.
Manchester-born, apart from a year living in the United States, Yongo has remained domiciled in the city of his birth, having worked as a journalist and content writer since 2016. His latest book, Pale Kings, is a continuation of the Lost Gods story, following the journey of adolescent assassins through a complex world of betrayal, conspiracy and political intrigue.