"One of the predominant and reoccurring themes in my work is home and comfort, belonging and a sense of place, and why I am a writer in the first place."
A debut novelist of Caribbean descent who grew up in Bristol, UK.
An olive grove in ends

Sayon, the protagonist of Moses McKenzie's debut novel, dreams of escape from the mean streets of Ends to buy a grand house overlooking the Avon Gorge but it comes with a catch: he needs to sell enough lines of heroin to put down a substantial deposit.
On finding ideas
Writing with all of Maya Angelou's literary autobiographies and One Hundred Years of Solitude within arm's reach
Belonging and a sense of place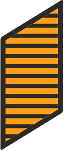 Living with no real attachment to any land or sovereignty
Photo by Robert Huggins
Biography
Moses McKenzie is of Caribbean descent and grew up in Bristol, UK, where he still lives and writes full-time. An Olive Grove in Ends is his first novel. After graduating with an English degree in 2019, Moses worked as a tutor to secondary-school pupils.
Moses is currently writing his second novel, provisionally entitled In the Vineyards of Engedi. His writing is strongly influenced by his literary heroes who include James Baldwin and Maya Angelou.