"Words came easily and I was fascinated by them. It was the one thing I knew I could count on in life no matter how dismal I felt: I could think and I could write."
A playwright and theatre director, Patricia Cumper has also adapted novels for radio and television.
Liminality/commonality

The writer's zone between sea and land.
Belonging and a sense of place
Attuning the ear to a new world.
Why I write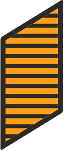 Where conversation and ideas are currency.
Biography
Patricia Cumper began writing for the theatre in the Caribbean, where she produced a dozen plays including, The Rapist, The Fallen Angel and The Devil's Concubine.
Patricia was the artistic director and CEO of Talawa Theatre Company from 2006 to 2012 and produced George C. Wolfe's The Colored Museum in the Victoria & Albert Museum. She was made a Member of the Order of the British Empire in 2013 for her work in Black British theatre.
Her play about Jamaican soldiers in World War One, Chigger Foot Boys, was produced in 2017, and she was one of the contributors to the New Daughters of Africa anthology edited by Margaret Busby and published by Myriad Editions in 2019. 
Her adaptations for radio include Rita Dove's The Darker Face of the Earth, Andrea Levy's Small Island, Alice Walker's The Color Purple (which won a silver Sony Award), Zora Neale Hurston's Their Eyes Were Watching God and Toni Morrison's Beloved. She adapted four of the six volumes of Maya Angelou's autobiographies, broadcast in 2018 and 2019.
She is currently working on Red Dirt, a play about the Windrush scandal funded by Arts Council England, and a musical adaptation of a Shakespeare play for the Geraldine Connor Foundation, as well as a screenplay about the Scottish Abolitionist movement.