"I had to get to a point in my process from which I didn't give a shit what anyone thought about it. I had to be able to constantly add risk, interest and innovation to the process without becoming fixated on how the output would be perceived. In fact, I had to take my mind off what the end product would be, never mind how it would be liked. This freed me up to make some of the best and lasting of my artistic work."
Roger Robinson is a multi award-winning poet from Trinidad now living in Britain.
NHS collage by Jazz Grant
Grace

There has been a growing demand for better pay for NHS nurses, and in 'Grace', the T.S.Eliot Prize-winning poet, Roger Robinson, recalls the generosity, bravery and kindness of the nurses who kept his newborn son alive.
NHS collage by Jazz Grant
How to be an artist
Moving between individual and social worlds
How to make great art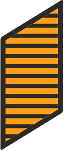 Finding a more expansive process
Biography
Roger Robinson is a writer who has performed worldwide. Winner of the T.S. Eliot Prize 2019, the RSL Ondaatje Prize 2020 and a Royal Society of Literature Fellow, he was chosen by Decibel as one of 50 writers who have influenced the Black-British writing canon. His latest collection A Portable Paradise was a New Statesman Book of the Year. He is an alumnus of The Complete Works and was shortlisted for The OCM Bocas Poetry Prize, The Oxford Brookes Poetry Prize, commended by the Forward Poetry Prize and shortlisted for the Derek Walcott Prize for Poetry 2020. He has been commissioned by The National Trust, London Open House, BBC, National Portrait Gallery, V&A, INIVA, MK Gallery and Theatre Royal Stratford East, where he was also Associate Artist.
An experienced workshop leader, he has toured extensively with the British Council. His workshops have been shortlisted in the Gulbenkian Prize for Museums and Galleries and were also a part of the Barbican's Webby Award-winning Can I Have A Word. He is co-founder of both Spoke Lab and the international writing collective Malika's Poetry Kitchen. He is lead vocalist and lyricist for King Midas Sound and has also recorded solo albums with Jahtari Records.