"There really are countless possibilities to consider, so many options to document, to discuss and dissect. This is the reason why I write. I want to create things that never existed before and reimagine things that may have."
A British-American poet, performer and playwright.
A recipe for home

A poet's recipe hits the spot.
Memory fluid
Rhythmic doodles and unsolved mysteries.
Finding my identity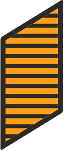 Eating treetops like broccoli.
Biography
Sea Sharp is a British-American poet, performer, and playwright whose work explores themes of home, trauma, identity and anything else that makes them feel uncomfortable. They are the author of Black Cotton (Waterloo Press, 2019) and of the Prairie Seed Poetry Prize winning book, The Swagger of Dorothy Gale & Other Filthy Ways to Strut (Ice Cube Press, 2017). Sharp's poem The Tallgrass Shuffles was selected for The Pushcart Prize: Best of the Small Presses XLI (2017) and since 2014, their work has been published in 25 magazines, anthologies, and presses including Polychrome Ink, Crab Fat Magazine and The Guardian.
By constructing performance art that makes use of spoken word in ways that are said to be "emotively confrontational and politically charged," Sharp offers uncompromising critiques on how we continuously mistreat each other, ourselves and our planet.
Sea Sharp has a Bachelor of Arts degree in Creative Writing and Literature, a minor degree in Theatre and another minor in Gender, Women, and Sexuality Studies from Kansas State University.