"Toni Morrison said, 'If there is a book that you want to read but it hasn't been written yet, you must be the one to write it.' It's a quote that has stuck with me over the years, and every time I have come to a crossroads in my career, her words come back to help me remember that if what I seek isn't already there, I must be the one to create it."
Carol Russell is a TV writer, traditional storyteller and consultant.
Playing with time

On how we use time in our craft to explore our past, present, and future
Writers who have inspired me
Advice and encouragement from the world's greatest writers.
Why I write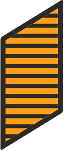 Writing the thing you want to read
Biography
Carol Russell is a British-Jamaican writer.  Her screenplay, House of Usher, was one of six short films made by Crucial Productions for the BBC. Her monologue, Horns of a Dilemma, was broadcast on BBC Radio 4's Woman's Hour. She was also one of the BAFTA nominated team of adapters of Jacqueline Wilson's Story of Tracy Beaker. Carol has work in development with three production companies, including GreenAcre Films where she's working on two drama series, Dark Justice and What Happened at Number 4?
Carol wrote one of the multi-award winning drama series, Soon Gone: A Windrush Chronicle, celebrating the 70th anniversary of The Windrush broadcast on BBC4 in 2019. She was longlisted for Thousand Films/Sid Gentle Films Screenwriting competition. Carol is currently writing for the series, Stone, for BBC Radio 4, and has been accepted on the Criterion New Writing Programme. Carol is the founder of Fresh Voices UK, which she set up in 2011 to raise the profile and amplify the work of writers of African, Asian and East Asian descent and others of ethnically diverse heritage. She is the coauthor, along with Jane Evans, of Invisible to Invaluable, published inMay 2021.