"I've tried all sorts of things. I've tried writing sci-fi. I've tried writing romance stories, older stories, younger stories… just try so many different things and see what you enjoy doing."
Patrice Lawrence wants to show that she's had a good experience of publishing and give people hope that they can tell their stories.
Foreign bodies and chocolate skin

The 'hidden' racially-charged words in UK children's writing.
Hope is…
Patrice Lawrence on her interpretation of the meaning of hope in writing.
London is the place for me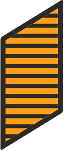 Patrice Lawrence talks about how her adopted city inspires her creativity.
Biography
Patrice Lawrence was born in Brighton, East Sussex, and was brought up in an Italian-Trinidadian family, her mother having come to England from Trinidad to train as a psychiatric nurse. Lawrence has an MA in Writing for Film and TV, and was mentored by the BBC as a prospective comedy writer.  Her first story to be published was 'Duck, Duck, Goose', which was included in The Decibel Penguin Prize Anthology (Penguin Books, 2006). It was while attending an Arvon Foundation crime writing course led by Dreda Say Mitchell and Frances Fyfield that Lawrence had the idea for her debut young adults' novel, Orangeboy.
Published in 2016, Orangeboy won The Bookseller′s YA Book Prize 2017, the Waterstones Children's Book Prize for Older Children 2017, and was shortlisted for the 2016 Costa Children's Book Award.
Lawrence herself has been reported as saying of the novel that "though her primary aim had been to promote hope in her story of a teenager caught in gang violence, she wanted to reflect the real situation faced by many black teenagers in Britain."
Her follow-up book, Indigo Donut (2017), was described by Alex O'Connell in The Times as "addictive", having "many of the themes of a Jacqueline Wilson novel: bullying, fostering, teenage relationships. Rose, Interrupted, was published in 2019.  Her novel Eight Pieces of Silva, which was published in 2020, won the 2021 Jhalak Prize for Children's and YA fiction.
Lawrence also writes a regular blog centring on her experiences of writing and having her work published, called 'The Lawrence Line', about which she has said: "There are a lot of people coming up behind you and you want to let them know how it happens, particularly for young black writers. I want to show that I've had a good experience of publishing and give people hope that they can tell their stories."